Setareh Eskandari, Ravina Tandon, Vaclav Kadrnka and Mariano Palacios IFFI Goa talks
In silence, you fall in love: Setareh Eskandari, Director of IFFI 52 World Panorama Film "The Sun of that Moon"
We have all forgotten silence and love. Through my film, I want to showcase the power of love and project the rights and freedom of women: Setareh Eskandari
Actress, Raveena Tandon of the film 'Aranyak', at the red carpet, during the 52nd International Film Festival of India (IFFI-2021), in Panaji, Goa on November 26, 2021
"The Sun of that Moon", focussing on the rights and freedom of women in Baluchistan, premiers at IFFI 52
You need to feel the spark of liberation even during challenging times: Director Vaclav Kadrnka at IFFI52
As an actor I try to grow with every character: Actor Mariano Palacios of movie "The Guest" interacts with Media at IFFI 52
"The Guest" is the story of a couple whose lives unravel upon arrival of an old friend as guest at their home
'Saving One Who Was Dead' is a film of light and hope
Born in Khorasan, Iran, Setareh Eskandari is a prolific actress, highly acclaimed and awarded for her work in theatre, TV and film. Working with big names in Iranian theatre, most notably with Ali Rafiee in Dey Troop, Eskandari is also active as stage and TV play director. The Sun of That Moon is her debut feature film.
As an actor I try to grow with every character: Actor Mariano Palacios of movie "The Guest" interacts with Media at IFFI 52
"The Guest" is the story of a couple whose lives unravel upon arrival of an old friend as guest at their home
Panaji, 26 November, 2021: The agony of a widowed woman which leads her to decide to keep silent and not speak anymore. The re-entry of her childhood playmate which rekindles the candle of love in her wounded heart. Balochi film The Sun of that Moon by debut Iranian director Setareh Eskandari offers film lovers an immersive pathway into the tumultuous inner world of Beeban and the orthodox society for which the pursuit of her childhood love is but forbidden.
The film, known in Balochi as Khorshid-e Aan Mah, has had its World Premiere at the ongoing 52nd International Film Festival of India. The film, set in the South-eastern Iranian provinces of Sistan and Baluchistan, has been presented to film lovers in the World Panorama section of the festival.
Through Beeban, the Director wishes to show the outside world the ordinary life of Iran's women and the less-known culture of its people. Addressing a press conference on the sidelines of the festival yesterday, November 25, 2021, the Director threw light on the funnel of inspiration which drove her to make the movie. "Beeban's love grows and falls in silence, for fear of the existing socio-cultural ethos and tradition.
Being a widow, Beeban can't be with her childhood love as per the prevailing socio-cultural norms and practices. The film picturizes the true story of women in Baluchistan region, which is not properly reflected in the media. I hope my film will bring freedom and rights for these women."
Eskandari spoke of the timeless need to remember the tragically forgotten life elements of love and silence. "The world that we live in is full of violence and hatred. We have all forgotten the silence and love. Through my film, I want to showcase the power of love and project the rights and freedom of women."
The Director said that the story has a connection with India, as in India also widow Hindu women follow a rigid lifestyle. "I am happy to have the world premiere of the film in India. There are a lot of similarities between the lifestyle and culture of India and Iran. I am pretty sure that people here would love the movie." She recalled that during the screening at IFFI, she saw many people, especially women, get very emptional.
Talking about the meaning of the title of the film, Eskandari said: "In Iranian culture, the sun is represented as man and the moon as woman, which also represent light and darkness respectively. As the film shows the darkness in a woman's life in comparison to a man, so comes the title."
Much to the delight of IFFI delegates, Eskandari said that people in Iran love Indian cinema. "Most of the people have watched Sholay and like Amitabh Bachchan. The legend Satyajit Ray has always been a role model for me and I draw inspiration from his works."
You need to feel the spark of liberation even during challenging times: Director Vaclav Kadrnka at IFFI52
'Saving One Who Was Dead' is a film of light and hope
Even during the most difficult and challenging times in life, we should not lose hope and feel the spark of liberation. Interacting with the media at a Press Conference held on the sidelines of 52nd IFFI today on his film Saving one who was Dead Director Vaclav Kadrnka said the film is of light and hope.
Addressing the Presser, Vaclav said that the film is based on personal experience. "My father had a stroke and he went into coma. My mother and myself tried to bring him back to normal even though the Doctor lost hope", he said.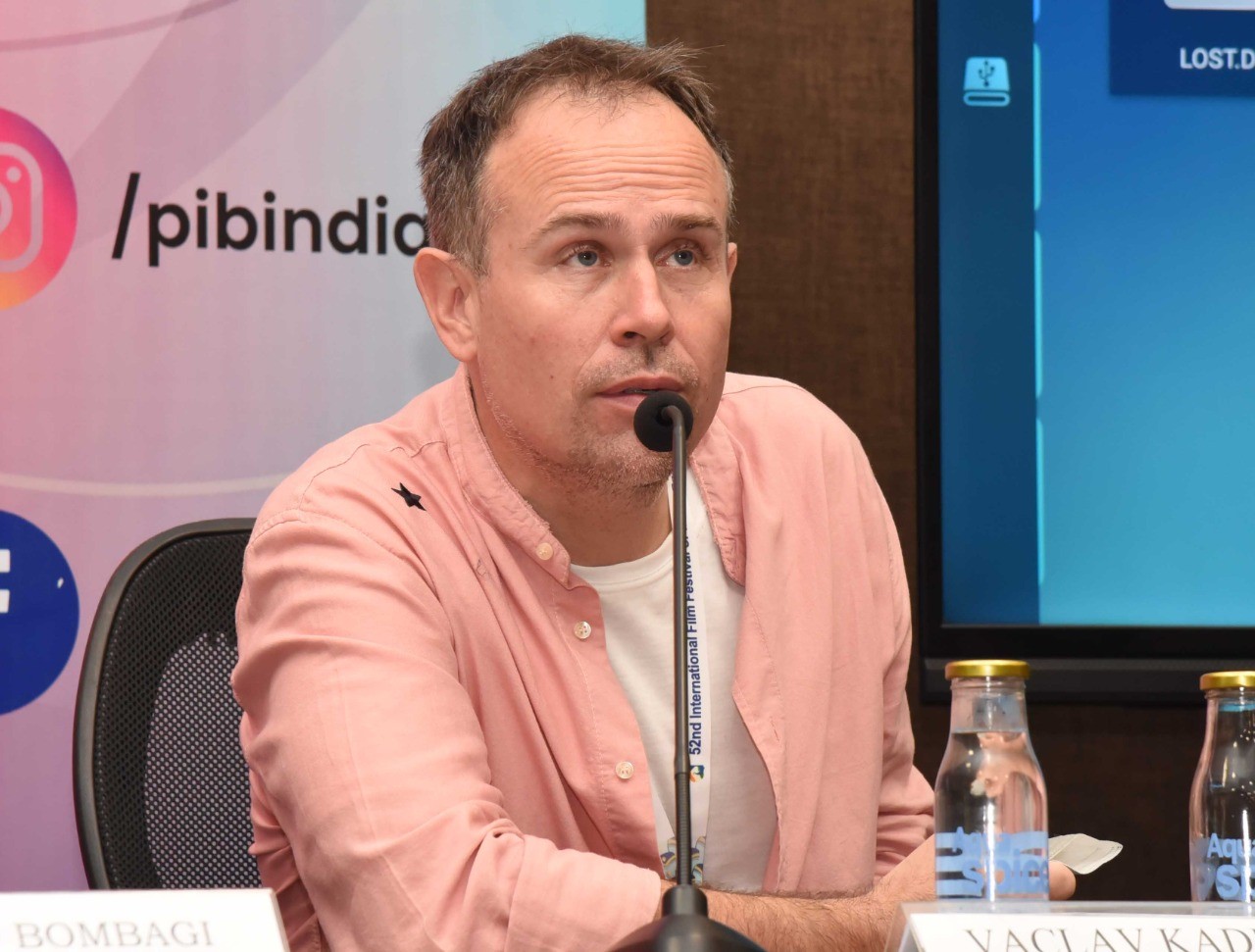 The Director further said that it's not a therapeutic film. "It's a film of positivity based on my personal experience. It's a story on how great it feels to love your near and dear and be with him always", he added.
Briefing about his experience, Vaclav said that first they felt the sorrow of loss and pain, but when they stood firmly, slowly all positive vibes came in. It's a kind of liberation for his mother and himself in such a dark phase. "He heard every word we told him, he caught all our emotion. After recovering gradually, he shared everything with us. It was an extremely happy moment for us", he said.
Speaking on public reception of the film, he said people who had similar experiences, came to him and shared their experiences and it was a great feeling.  
Responding to a query on the reaction of his father he said, "My father was very pleased with the film and we had very good discussions on the film, while making."
Saving One Who Was Dead
(International Competition category)
About the Director: Václav Kadrnka is a Czech filmmaker. After graduation at FAMU, he completed Eighty Letters (2011) his full length feature based on his mother's letters to his father during his emigration from the communist regime. It premiered at Berlinale. In 2017, he completed his second film Little Crusader which premiered at Karlovy Vary and won the Grand Prix Crystal Globe.
About the Film: After a stroke, Father goes into a coma. The Son and the Mother are suddenly confronted by a motionless body. The person they love is somewhere far away and nobody knows whether he will return. The doctors don't give them hope. Now the duo concentrate all their strength and start to act. First, they address the Father's body, but soon realize they must direct their words to something beyond.
It was also selected for Karlovy Vary International Film Festival 2021 and Seville European Film Festival 2021
As an actor I try to grow with every character: Actor Mariano Palacios of movie "The Guest" interacts with Media at IFFI 52
"The Guest" is the story of a couple whose lives unravel upon arrival of an old friend as guest at their home
"As an actor I try to grow with every character. I try to portray various characters that challenge me", said actor Mariano Palacios during the media interaction on his Spanish film The Guest on the sidelines of IFFI 52 in Goa today.
The Guest which was screened in World Panorama section also had its World premiere at 52nd IFFI in Goa this year and received rave reviews from the audience.
It is a story of a couple whose lives unravel upon arrival of an old friend of wife as guest at their home.
Responding about a query about the intimate scenes in the film, Palacios said, "I think being able to bare your soul is the first step towards baring the soul of the character and then intimate scenes don't appear difficult"
"We shot for the film in very unconventional way. We just started with small rough script and built upon that," said Palacios. He further informed that almost 80 percent of the movie was shot in one location.
While speaking about change in the opportunities to film industry upon arrival of OTTs, Palacios said that "Film industry in Mexico is very big. Only very small percentage of those movies get theatres and others have to look for other avenues to release their film. At the end of the day it is commercial aspect which matters for OTTs and hence small budget films and parallel cinema has not benefitted much from the advent of OTT platforms."
Palacios considers music as first among all the arts and he was happy that the music used in the film creates the curiosity and expectations among audience about what is forthcoming.
About The Movie
Alicia and Enrique are a young married couple who are somewhat distant from each other. Their relationship is threatened when Carlota, Alicia's friend, comes on a visit and stays with them for a while. Enrique has to deal with a spawning sexual desire towards Carlota, consequence of her obvious seduction game. But what he doesn't know is that Alicia and Carlota share a secret from their past, something that will change things drastically.
About Director
Ana Mancera Director and writer born in Mexico City, Ana Mancera studied communication at the Universidad Iberoamericana, where she specialized in Film. She has worked on several projects in production houses such as Itaca Films and Videocine. She has also directed several advertising projects for Roots, Revolución Mexico and Wabi.